DIAD: Thanksgiving Meal on Wheels
The Junior League of Tucson participated in the 30th Annual Thanksgiving Day Meal at Saint Demetrios Greek Orthodox Church on Thursday, November 26 sponsored by the Salvation Army.
More than 150 volunteers, staff and employees prepared and prepared nearly 3000 meals to people at the church and to about 500 home bound people through Meals On Wheels. Our league members participated in the Meals on Wheels Program, serving meals to home bound men and women.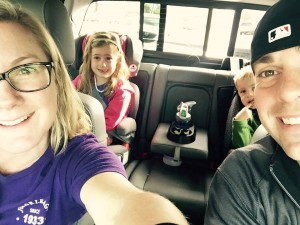 League member, Amy Walker said, "It was the first time for the Walkers to deliver meals as a family Thanksgiving and it was one of the most memorable experience we have had as a family. My kids are still young (Olivia, 5 and Drew, 3) to really grasp the true meaning of what we were doing but they did understand the importance of giving and helping others. I will not miss this event again. It is one of my favorites JLT participates in!"