DIAD: Tucson Modernism Week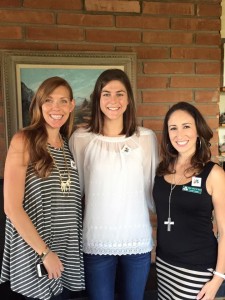 The Tucson Historic Preservation Foundation presented Tucson Modernism Week 2015, beginning Friday, October 2nd through Saturday, October
10th. The celebration featured a series of programs, film, lectures and events highlighting Tucson's Mid-century Modern design and architecture throughout the city. Tucson's Modernism captured the exuberance of the post WWII era, and is defined by clean, simple lines and a casual informality. In the Southern Arizona desert the movement has come to be defined as Sonoran Modern with the use of regional materials, adaptation to the desert climate and an emphasis on indoor/outdoor living.
Our Junior League Members were able to participate as docents in one of the homes, greeting guests, and discussing architectural aspects of the home with the guests. It was an incredible event to be involved with due to the fact that our Headquarters is a mid-century modern structure! Tucson Modernism Week is a great event that brought our community together and our members loved helping being part of it.
As a staple to the Tucson community, it was a great opportunity for our members to get in touch with our Southwest roots and gain knowledge of Tucson architectural history!