Pima County Election Results
#Training #InTheCommunity
Published: November 5, 2015
Part of being an engaged member of the community is understanding and being knowledgeable about issues facing our community, including the political process.  Below are highlights and official results from Tuesday's elections. Additional results can be found at the Pima County Elections website.
All mail-in ballots and precinct ballots have been counted; however, Pima County Elections Department still had over 20,000 ballots left to count as of 10am this morning. If any results change, which is unlikely, we will let you know.
Highlights:
Official voter turnout was at 27%. A total of 155,168 ballots were cast out of 564,716 registered voters.
All 7 Pima County Bond questions have been rejected.
All City of Tucson Mayor and Council incumbents remain in office.
City of Tucson charter changes have been approved. Changes provide for equal voting rights for the mayor and a uniform method for appointment and removal of city department directors by the City Manager.
City of Tucson Mayor and Council pay raises were rejected.
City of Tucson red light camera ban has been approved. Cameras are expected to be turned off by Nov. 19.
Oro Valley incumbents survived their recall election.
Town of Sahuarita General Plan was approved.
Pima County Propositions: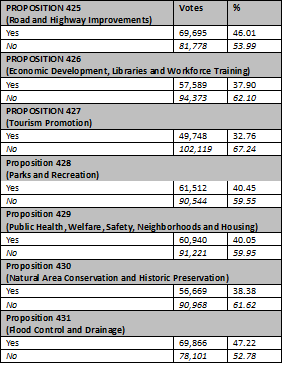 City of Tucson Mayor and Council: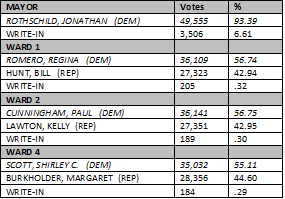 City of Tucson Propositions: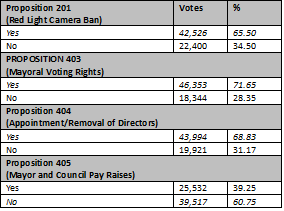 Oro Valley Recall: