The Ann-Eve Johnson Award was initiated in 1981 to recognize a Sustaining member who has made significant contributions to the community as a volunteer. This prestigious award is named after a woman who was President of the Junior League in 1939-1940. Ann-Eve was always active in the community and some of her contributions included Tucson Children's Theatre, Planned Parenthood, Temple of Music and Art, Tucson Historical Society, and St. Luke's Home. During the 1950's, Ann-Eve, along with Helen Murphey and Jane Vancovich, became involved in efforts to save important Tucson landmarks. One story tells the three of them lying down in the street in front of bulldozers to save the Fremont House – which still stands today as a museum for people to see. While most recipients don't stand in front of bulldozers, these women have followed Ann-Eve's example of volunteerism.
Amy Bhola is the 2022 recipient of the Ann-Eve Johnson Award.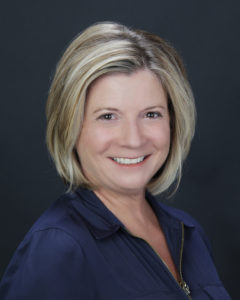 Amy Bhola first became involved in Junior League when she lived in Phoenix, where she was born and raised. After moving to Tucson in 1998, she became active in the Junior League of Tucson. During her 16 active years in the Tucson League, Amy served in a variety of roles including terms as Membership Director, Fund Development Director, Community Service Director, and President. One of her favorite JLT experiences was working with other JLT members to develop a JLT Community Project committed to providing safe, accessible and energy efficient homes to seniors within the greater Tucson community. JLT CARES (Creating Appropriate Residences for Every Senior),was created in collaboration with Lend A Hand Neighborhood Coalition and Pima Council on Aging. Another favorite was serving for three years on AJLI's ALT (Action Learning Team) for Membership, which looked at revamping AJLI's 100 year old model and creating a membership experience which better fits the needs of today's women.
Amy is a passionate supporter of public education. She spent eleven years as a middle school math and science teacher and iscurrently finishing her second four-year term on the Catalina Foothills School District Governing Board. Amy plans to run for a third term this election cycle. Although she served two years as board president, Amy was fortunate to finish that role at the end of 2019 just before Covid hit. When passing the reigns over to her successor, she commented that after the tumultuous year of Red for Ed protests (which she supported), 2020 should be a calm year. Who could have known those words would be so far from the truth. However, with all the ups and downs of the past two years, board governance is a job Amy values deeply as it allows her to stay connected to education and help ensure a high-quality education for all CFSD students.
Amy is still an active community volunteer. She volunteers with Chi Omega Fraternity, both locally and nationally. She has served in an advisory role to 300+ college women since 1999, a job she loves, and just finished eight years on the National Advisory Training Team, providing support and training to Chi Omega's 178 Advisory Boards across the country. She is also a member of the Silver & Turquoise Board of Hostesses. S&T is a 70 year old organization created to celebrate Tucson's rich culture and heritage. Amy credits the Junior League of Tucson with providing her with the leadership skills needed to make an impact in the community and for gifting her with many lasting friendships. She often says that her time with the League has been given back to her ten-fold.
Amy is has been married to Khush Bhola for 22 years. They have 2 children. Mason is a sophomore in college and Lily is a senior in high school. The Bhola Zoo also has three dogs, two chickens, a tank of fish, and a ball python.
Previous Award Winners:
2020-21   Debby Johnson
2019-20  Adaline Klemmedson
2018-19 Emily Morrison
2017-18   Natalie Ireland
2016-17   Betty Jo Castelan Drachman
2015-16   Betsy Bolding
2014-15   Melinda Burke
2013-14   Carla Keegan
2012-13   Eleanore "Fuzzy" Adelman
2011-12   Lynne Dusenberry
2010-11   Jennifer Casteix
2009-10   Kristin Almquist
2008-09   Linda Lohse
2007-08   Charlotte Harris
2006-07   Barbara Peck
2005-06   DeeAnn Sakrison
2004-05   Dawn Cole
2003-04   Laura Sundt Eberly
2002-03   Frances Sundt
2001-02   Mary Kay Dinsmore
2000-01   Marilyn "Corkey" Ronstadt
1999-00   Brenda Viner
1998-99   Patricia Crowley*
1997-98   Brenda Even
1996-97   Dee O'Neill
1995-96   Nancy Kinerk
1994-95   Freddy Hershberger
1993-94   Edith Auslander
1992-93   Sally Drachman
1991-92   Elizabeth Alexander Ogilvy
1990-91   Louise Thomas
1989-90   Virginia Dahlberg*
1988-89   Natalie Davis
1987-88   Ann Boice
1986-87   Melinda Carrell
1985-86   Connie McConnell*
1984-85   Mary Margaret Raymond
1983-84   Laura Almquist
1982-83   Betty Ochoa
1981-82   Mary Foster
1980-81   Lydia Paulsen
*deceased