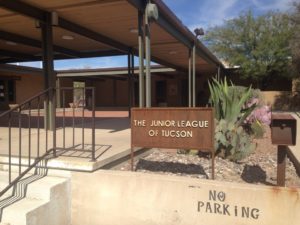 The headquarters at 2099 E. River Road was given to the Junior League of Tucson, Inc. by Helen Murphey. The Junior League of Tucson, Inc. is proud to share its facility with the community.
Review the JLT Facilities calendar for availability.
Complete the Facilities Usage Form for either the Kiva Room (holds 200) or Board of Directors Room (holds 50) and submit to the Junior League for approval.
Ph: 520-299-5753
Fx: 520-299-5774
Email: admin@jltucson.org
Office Hours:
Mondays and Tuesdays 9 a.m. – 4:00 p.m.
Wednesdays 9 a.m. – 3:00 p.m.