The Junior League of Tucson is establishing an issue-based community impact approach to its outreach in the Tucson community. Our League offers opportunities for community and civic leadership development, which encompasses a greater scope and depth of field for our members to engage in our community. This new approach offers a menu of short and long term opportunities allowing members to develop through multiple customized paths to civic engagement.
Done-in-a-Day 
Done-in-a-Day (DIAD) events are volunteer-led, hands-on service opportunities that support an urgent need in our community.
Members of the JLT assist other Tucson organizations in one day projects totaling over 1,000 volunteer hours annually. Our past community partners have included: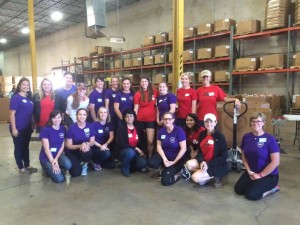 Community Food Bank of Southern Arizona
Ben's Bells
Ronald McDonald House Charities of Southern Arizona
HopeFest
Wings for Women
Zoocson
Primavera Foundation
Beads of Courage
St. Luke's Home
Cinderella's Closet
March of Dimes
Salvation Army Tucson
Youth on Their Own
Aviva Children's Services
Please contact JLT at admin@jltucson.org or (520) 299-5753 to request assistance for your project.