JL Legacy: Signature Event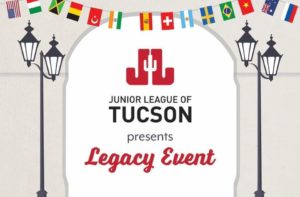 Junior League of Tucson Presents: It's a Small World
The Junior League of Tucson, Inc. presents its sixth annual JL Legacy fundraising event, designed to take you on a trip around the world.
Join the Junior Leage of Tucson at St. Philips Plaza (map) from 6-10pm on February 29th to leap around the world on Leap Day! Enjoy vibrant decor, live music, and taste small bites from local Tucson eateries. GA tickets that include 2 drinks will be $65, and non-drinking tickets will be $50.
We will have amazing silent auction items, a Kendra Scott Jewelry pull, wine wall, and a 50/50 raffle all for your enjoyment. Through this event, the Junior League is able to continue its mission and support our efforts in the community.
The Junior League of Tucson, Inc. is an organization of women committed to promoting voluntarism, developing the potential of women and improving the community through effective action and leadership of trained volunteers. Its purpose is exclusively educational and charitable.
Click here for a link to our Facebook JL Legacy Event Page
WHY DO WE DO THIS?
In addition to being an incredible evening of fun, this event is also a critical fundraiser to support the women's leadership and community outreach programs of the Junior League of Tucson, Inc. In 2017-2018 Junior League Year, we currently served over 4,800 people, with over 875 volunteer hours and 270 volunteers.  In this same year we held 26 'Done In A Day' events and served over 1,550 people with our 'Kids In The Kitchen' events and provided 591 volunteer hours! We love what we do!
BRAND YOUR BUSINESS
JL Legacy is made possible by generous supporters like you.  Learn about our sponsorship program here or email us at admin@jltucson.org!
Click to see photos from 2015, 2016, 2017 & 2018 JL Legacy events 
Thank You To Our Sponsors!